DAVID MUENCH'S COMMENTS & UPDATES
---
Welcome to My Website
Welcome to my website. I am pleased to show you my life's journey through photography. I have put my images into Portfolios to view as subjects, ideas, and places that are dear to my heart. I have over 5000 images, and growing, to look at on my website, including all 200 images archived at the Center for Creative Photography, as well as other favorites such as Hawaii Beautiful, Icelight / Glaciers, Arizona Wild, and Alaska Wild. These are just the tip of the iceberg! This website, like my life continues to grow, so please, let me know what you think and keep an eye out for ever expanding portfolios. I will be getting my 2015 workshop schedule up as soon as travel places and dates are confirmed. I will also be posting my thoughts and other updates regularly on this page, so check back often!

Purchase Fine Art Gallery Prints by David Muench
Each size of each image will be printed in a limited edition of twelve.
| | | |
| --- | --- | --- |
| Print Size | | Signed Print |
| 16 x 20 | | $2,500 |
| 20 x 24 | | $3,000 |
| 24 x 30 | | $3,250 |
| 30 x 40 | | $3,600 |
| 40 x 60 | | $4,000 |
| 48 x 80 | | $4,800 |
---
ALABAMA HILLS NATIONAL SCENIC AREA DEDICATION - Oct.5, 2019
Congratulations to Calif. Sen. Dianne Feinstein, U.S. Representative Paul Cook, Kevin Mazzu of The Alabama Hills Stewardship, and countless others who have worked hard to get the bill passed.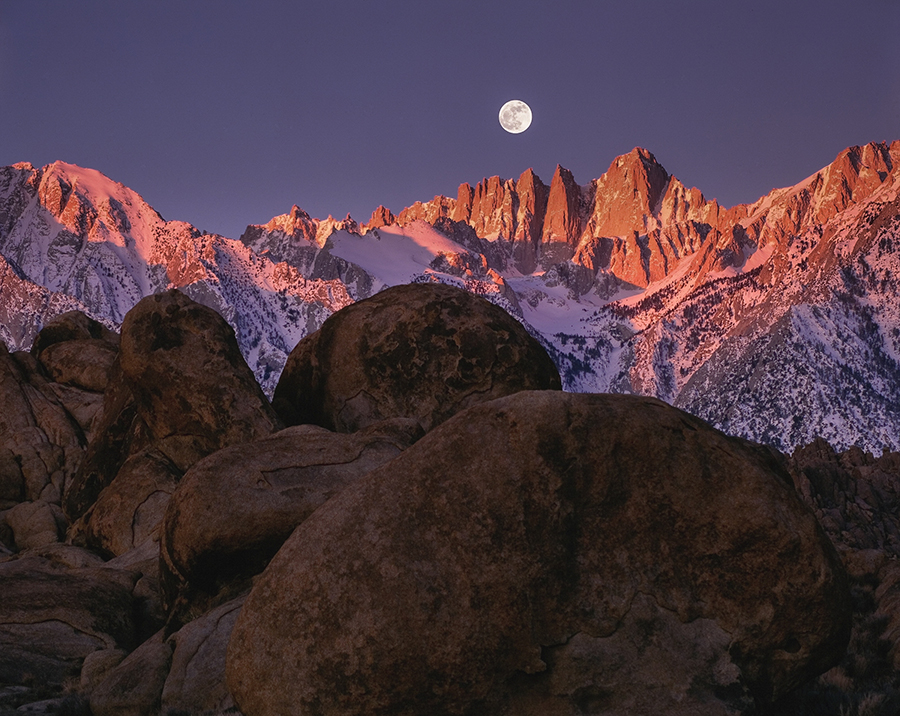 MOONSET, MOUNT WHITNEY 1995
Alabama Hills, Eastside
Sierra Nevada Mountains
CALIFORNIA
Q-3947
View more photos from the Alabama Hills portfolio.
---
David Muench featured in the article The Big Sky of the March Outdoor Photographer
article written by Ruth Rudner
Legendary landscape master David Muench traded a 4x5 for compact digital cameras for his most recent expeditions in Montana and his exploration of Big Sky Country.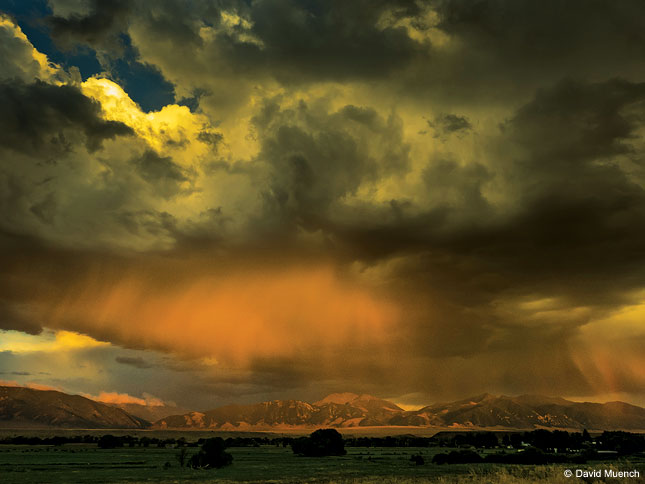 ---
Help Stop Plans to Develop the Grand Canyon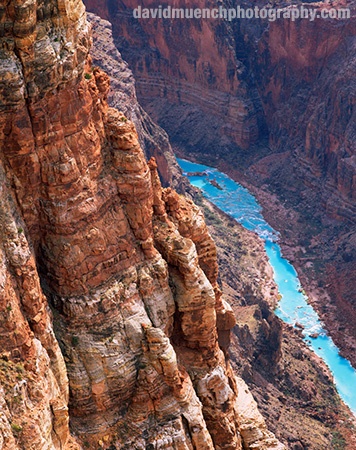 It has been proposed that a tramway and accompanying resort-type structures be built in the Little Colorado River in the Grand Canyon, as well as the rim up above. I'm very much opposed to this as it is one of the pristine and sacred places in the United States. I believe the Hopi nation considers the area sacred and sincerely hope that this development gathers no more steam.
Show your support by signing this petition on Change.org to stop plans to develop the Grand Canyon.
For more images of the Grand Canyon as it should remain, see my Grand Canyon portfolio.
12/11/14
---
Autumn in the San Juan Mountains - October 2014
While working on Bill Jagde's workshop in early October, we celebrated a fantastic Autumn in the San Juan Mountains and at Great Sand Dunes National Park. I also had a great day photographing the heavy snow-laden Sawatch Range / Collegiate Peaks. I have never seen the combination of Gamble Oak, Cottonwoods, and Aspen displaying such a varied mix of color all in one shot.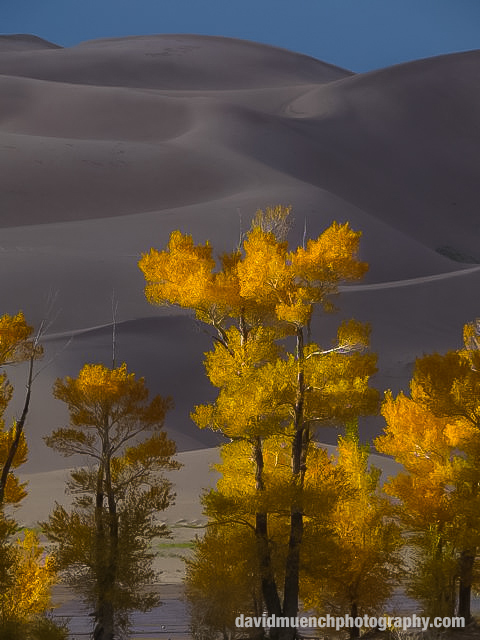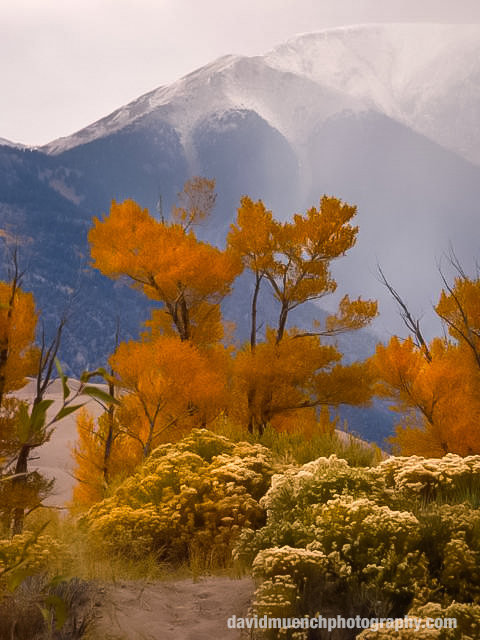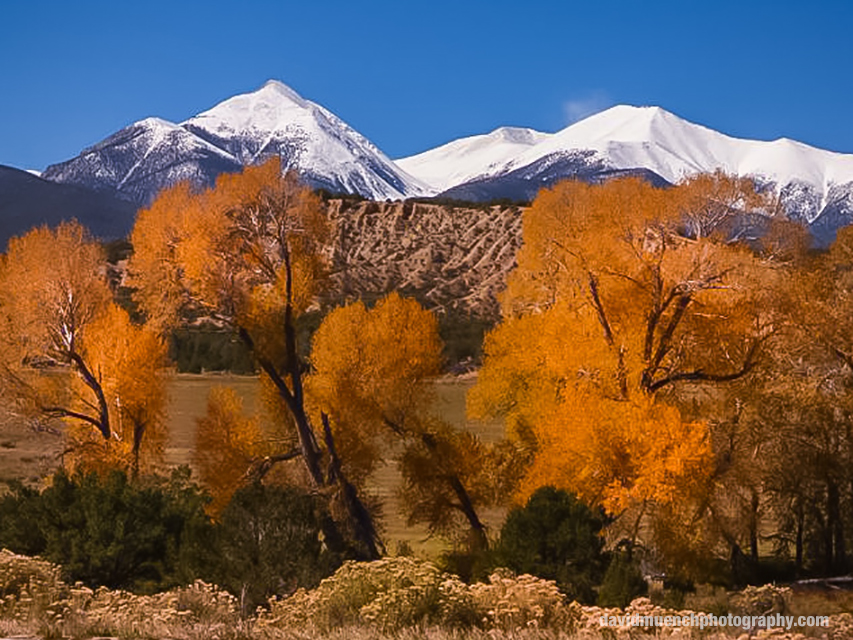 10/22/14
---
Montana's First Snow - September 2014
When I heard the first winter storm of the season was about to happen in Montana's Beartooths, I drove to Red Lodge on September 10 to be ready for it. It snowed the entire first day I was there, then cleared the next. I photographed through the transition. A gorgeous couple of days!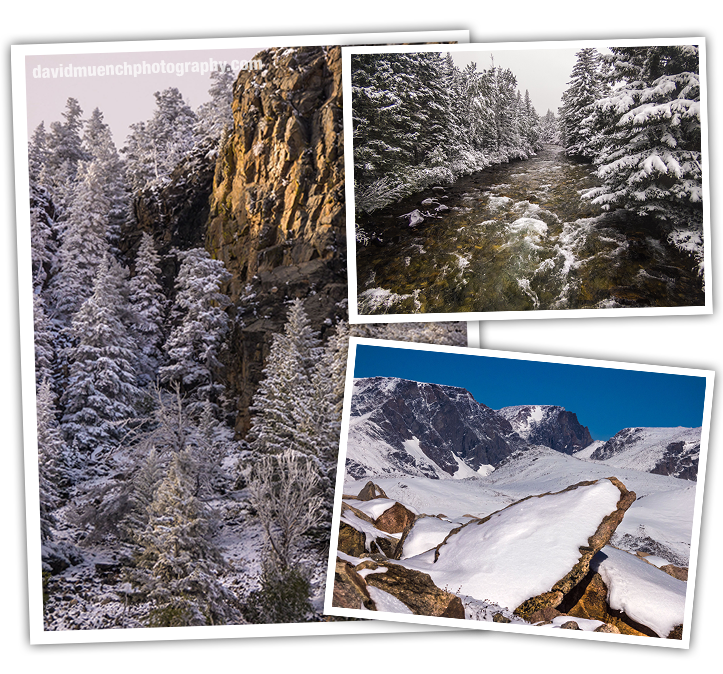 9/19/14
---
David Muench in the July Outdoor Photographer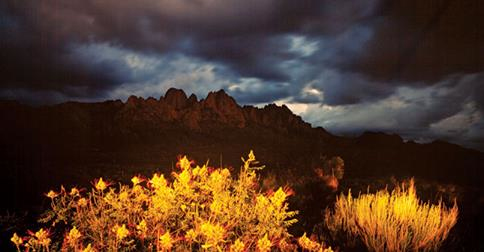 A new article in the July Outdoor Photographer — a piece called "The Timeless Moment," combines David Muench's photographs with author Ruth Rudner's words about the newly designated Organ Mountains-Desert Peaks National Monument. | Read Article
View the Organ Mountains/Desert Peaks Wilderness National Monument Portfolio
6/10/14
---
A Conversation with David Muench on ProNature Photographer
Charlie Borland, from ProNature Photographer, interviews David Muench in a five part series about his photography, his new eBook, Toprock, and his passion for photographing wild place.
Watch Now - 5 Part ProNature Photographer Videos Series
Charlie Borland, a professional photographer for 30 years and publisher of the web magazine; ProNature Photographer, has published a new eBook, Outdoor Flash Photography, available on his website.
5th interview in series: Timeless Moments

View photographs from David's Timeless Moments portfolio
See more videos with David Muench
2/13/14
---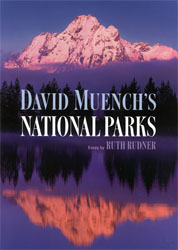 Announcing a new Book:
DAVID MUENCH'S NATIONAL PARKS
(paperback; 232 pages)
"Muench's international reputation derives from an unflinching embrace of nature's nuances. He engages the primal landscape across all the human fronts: as thinker, dreamer, seeker, lover, lifelong friend." —James Lawrence
Learn More | More Books by David Muench
Buy Now:
Amazon.com | Barnes&Noble.com
Booksamillion.com | IndieBound.org
3/15/13

---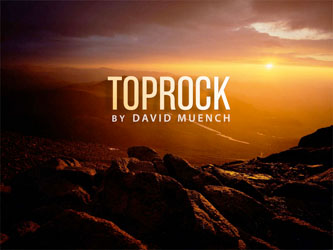 Announcing a new eBook from David Muench: TOPROCK
(pdf eBook; 58 plates; 137 pages)
Toprock is a subject dear to my heart. I've been photographing on the summits of American mountains, particularly in the West, with 4x5 film, 35mm film and, more recently, with digital capture for over 50 years. It is my dramatic story. This eBook is a real labor of love for me.
Learn More | More Books by David Muench
Buy Now at Muench Photography
1/21/13

---
David Muench featured in Outdoor Photographer
David Muench has been featured in Outdoor Photographer numerous times. Below is a selection of these articles.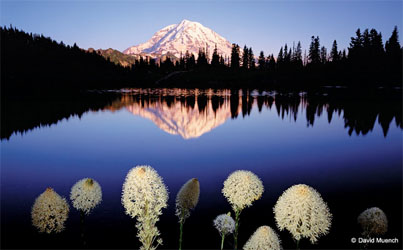 Beargrass and Mount Rainier by David Muench
"While many photographers may only capture a superficially pretty photo, Muench explores the landscape to create rich, evocative and lasting art"
—Tom Till, Outdoor Photographer, October 2012
---
Click Here For Pricing & To Purchase Fine Art Prints