PHOTOGRAPHER'S STATEMENT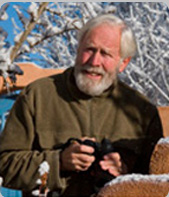 Awed by sheer rock walls and the changes of seasons, by the magic of dawn light, and the earth's shadow rising at sunset, by the sound of mountain water and the edges of the Pacific, by the stillness of a reflecting pool, and the tops of mountains—their heights, their rock, their magnificence, what I want is nature at its most powerful, its wildest, its most extreme, most dramatic.
The things that matter to me inform my photography and my life. Because I've used my photography to explore these things, you will find them as titles of portfolios. But they are also subjects for my thinking. They reflect the places and subjects about which I feel passionate. They are many. What they share is the magnificence of their natural beauty. The connectedness I feel with, and in, nature has been the draw for me for over fifty years of making photographs.
TIMELESS MOMENTS, those transitory moments between the past and the future where everything is stopped by the camera, seem to me the essence of photography. Light defines that moment, as, indeed, it defines every aspect of photography. By addressing the Timeless Moment, I enter into the timeless landscape as well.
NATURAL CONNECTIONS/NEAR/FAR, evolved out of my wish to portray the landscape in a way that had not been done before. What I evolved was a way of photographing the distant landscape by connecting it to a closeup detail, connected by a middle ground of line and form or color. It is a way that takes the viewer's eye on a three dimensional trip, but perhaps most importantly, it is a way of connecting the viewer to the whole of the landscape. I, too, am a viewer. The connectedness I find is, in a sense, my own connectedness to the landscape in which I stand, and which I view.
TOPROCK brings me palpable memories of lugging my 4x5 camera to the tops of mountains. I've carried it to the top of over 50 of the major western peaks, as well as the Appalachian Mountains in the Eastern U.S. In photographing the rock and sky I won at the top, I was recording my own emotions. The images are completed by spontaneous moments of fantastic light, those moments you can plan for only by being ready. We can never know what the earth will present us, but we need to be prepared for whatever it is.
ANCIENT BRISTLECONE PINES are the timberline ancients who have been telling me their stories for a long time. Arguably the oldest living plants on Earth, these fantastically sculpted trees on the barren tops of ranges in the west provided me the subject for one of my favorite books—Timberline Ancients. Never tiring of these trees, I return again and again to the high, bare heights that are their home.
PLATEAU LIGHT is my heart and soul country. It has been my subject for all of my life as a photographer. Even as a child, traveling with my parents into Red Rock Country, with its transcendent quality of light – brittle, brilliant, magical—I found this landscape compelling. Nothing has lessened of its draw.
But other American places also matter a great deal to me. My life-long commitment to photographing in the Eastern Sierras began as a child in the 1940s and 50s when I accompanied my parents on packtrips into Kings Canyon, Sequoia, and Yosemite National Parks . . . the High Sierras. Extending eastward from the high peaks, the granite shapes and forms of the Alabama Hills also fascinate me. I am active in attempting to get some form of federal protection for this magical area.
In the time I've been photographing, much has changed. It is not just in technology, but in the landscape. Photographs I made in the 1970s and 80s and even since 2000 can never be made again. The land itself changes. Earthquakes, volcanoes, floods, have all altered landscapes I was lucky to experience in a different form as a younger photographer. (I even brought the news of Mt. St. Helens first eruption to the ranger at Kalaloch on the Olympic Coast, who, disbelieving, said it was probably Quinault people blowing up cedar trees. I photographed Spirit Lake before and after the eruption.) Perhaps of more impact are the human-wrought changes. Barriers have been erected to points from which I could once freely shoot. Developers interpose themselves on once pristine landscapes, global warming shrinks glaciers, pollution decimates forests, all sorts of resource extraction change the face of mountains and canyons, dams change the course of rivers. As a landscape photographer who has photographed what once was, and will never be again, what do I have to say about our responsibilities to this world that offers us beauty, and is so often so misused, so abused by us?
And what do I, as a photographer, an artist whose work spans two centuries, have to say about my own work, my own time? My own sensibilities, honed at the height of photography as an art, informed by the work of Henri Cartier Bresson, Edward Weston, Brett Weston and Ernst Haas and, of course, by my acquaintance with Ansel Adams (who put me on the short list for inclusion in the archives of the Center for Creative Photography) and by my nearness to the work of my own father, Josef Muench, honor the work of these photographers. And drive me to continue to seek my own direction.
I was lucky. I entered the field of landscape photography when it was still new. Yet, it remains new for me. I've put away—temporarily—my Linhof Technika (4x5), Leicaflex (35mm) and Canon (35 mm) film cameras and, since 2007, have made the leap to a slow learning curve with digital photography. I am excited by the freedom I am finding in digital cameras, as I continue my personal journey in the American Landscape. Every photograph is a journey, an exploration in seeing. I continue to photograph the inspiring beauty and extraordinary power of the world around me. I remain impressed by the wildness of nature. Most of the past 50 years has been spent exploring and interpreting the American West, with occasional forays into the wild, ancient beauty of America's East and, in recent years, with numerous journeys into Patagonia, Peru, Antarctica, Africa, New Zealand, Iceland. Yet, the American landscape remains prime for me, the landscape most thoroughly mine. In photographing the landscape of the Lewis and Clark Expedition on assignment from the National Park Service, I captured the pristine heart of America through which the Expedition traveled on its journey to the Pacific. Today 33 fifteen-foot high panels—ranging from five-feet to thirty-feet long-- hang in a permanent collection at the Jefferson Expansion Memorial under the arch in St. Louis. Our national parks are an enduring endeavor for me, a homeland and a passion. But making photographs—anywhere--is always a total, and passionate, involvement.
So, what do I have to say about the environment, the landscape I photograph? What do I have to say about photography? It is all there in my work. It is my work that speaks for me.