DAVID MUENCH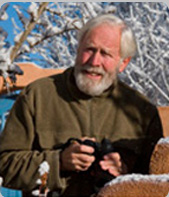 My biography begins in the Sierras, a child on pack trips with my parents, my photographer father, my writer mother. It begins in my first views of the wild places that became the subject for my own photography, but more than that, the places that have offered me a lifetime of solace, of adventure, of joy.
Our childhoods set our paths. Finding in them the directions we wish to go, the paths lead us deeper and deeper into our lives. I was lucky. I watched my father do the work that led me into my own work. I helped him in that work . . . as a young child as his model, as a teenager, printing his black and white photographs.
I made my first photographs as a teenager in the late 1950s, and had my first photographs published as front and back covers of Arizona Highways when Raymond Carlson was editor, and I was still in high school. There was never any question of my career. My education in photography and in art — both at Rochester Institute of Technology in Rochester, NY, and the Los Angeles Art Center School of Design — provided me with the formality of a degree in photography, and an understanding of the technology of the time, but I felt — and continue to feel — that my most profound learning experiences were in the field. Even now, as the technology of photography explodes in directions undreamed of in my early days, and as I continue to learn, to expand in new directions, it is nature that remains my teacher.
Although my work has been shown in numerous exhibitions, including Santa Barbara Museum of Art, Phoenix Art Museum, Center for Creative Photography, Museum of Northern Arizona in Flagstaff , what is most enduring are the more than 50 exhibit format books I've published. The books allow me to share in depth the subjects — the landscapes — that inspire me. Two of these (and a number of articles) have been done with my wife, the writer Ruth Rudner.
I am among the archived photographers at the Center for Creative Photography at the University of Arizona, Tucson, short-listed for this honor by Ansel Adams, founder, with John Schaefer, of the CCP.
As a two-time Canon Explorer of Light, I worked with the Canon Systems cameras that were the mainstay of my 35mm work. Participation in a UNESCO/Panasonic sponsored project to photograph World Heritage Sites propelled me into learning to photograph with digital cameras. I revel in the freedom these cameras bring. But, for me, photography — with any kind of camera — is a matter of seeing.
Perhaps, for me, all of life is that. Which makes my biography quite simple. I photograph as I see. I see what is wild. I care that my photography speak for the wild beauty I treasure. I care that my children, Zandria and Marc, both photographers, continue that legacy.
Do biographies have a beginning and an end? Or do they simply have a continuing mission in the work one does . . . . for me, the journey continues . . . .

May 2011